World Statistics Day: 20 October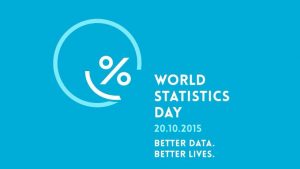 World Statistics Day is observed on October 20, once every 5 years. The next World statistics Day celebrates on 20 October 2020. The day acknowledges the fundamental importance of sustainable national statistical capacity. This year World Statistics day theme is "Better Data, Better Lives".
The first World Statistics Day was celebrated in 2010, as decided in resolution 64/267, and was deemed an overwhelming success, with activities organized in more than 130 Member States and by at least 40 international and regional organizations and entities.
Source: The United Nations