Maha Shivratri around the world in 2021 - When is Maha Shivratri in 2020?
Maha Shivratri in 2020 is on the Friday, 21st of Feb (2/21/2020).
Maha Shivratri is on the 52nd day of 2020. There are 314 days left in the year.
Maha Shivratri Facts
Date: Feb 21, 2020
Religious
Also Called: Shivratri, Happy Shivaratri
Celebrations: Worshiping Lord Shiva, fasting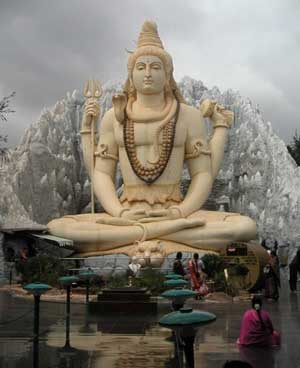 Maha Shivratri, which literally translates to "great night of Shiva" is a Hindu festival largely celebrated in India as well as in Nepal. The festival is celebrated on the new moon day in the month of Maagha according to the Hindu calendar. The day is celebrated to venerate Lord Shiva, an important deity in Hindu culture.
There are many mythological legends associated with this day. According to a popular legend, when a hunter could not find anything to kill for his food in a forest, he waited on the branch of a Woodapple tree. In order to attract deer, he started throwing the leaves of the tree on the ground, unaware that there was a Shiva Lingam beneath the tree. Pleased with the Woodapple leaves and the patience of the hunter, it is believed that Lord Shiva appeared in front of the hunter and blessed him with wisdom. From that day onwards, the hunter stopped eating meat.
Another legend has it that after the Earth was faced with an imminent destruction, Goddess Parvati pledged with Lord Shiva to save the world. Pleased with her prayers, Lord Shiva agreed to save the world on the pretext that the people of the Earth would have to worship him with dedication and passion. From that day onwards, the night came to be known as Maha Shivratri and people began worshipping Shiva with a great enthusiasm.
Some folklore also consider this to be Shiva's day as this was believed to be the answer given by Lord Shiva when asked about his favorite day by Goddess Parvati.
Maha Shivratri is a Hindu festival which is celebrated by people following Hinduism in India. People often fast on the night of Shivratri and sing hymns and praises in the name of Lord Shiva. Hindu temples across the country are decorated with lights and colorful decorations and people can be seen offering night long prayers to Shiva Lingam. Woodapple leaves, cold water and milk are offered to the Shiva Lingam on this day as they are believed to be Lord Shiva's favorite.
It is believed that the people who fast on this night and offer prayers to Lord Shiva bring good luck into their life. The most popular Maha Shivratri celebrations take place in Ujjain, believed to be the place of residence of Lord Shiva. Large processions are carried out throughout the city, with people thronging the streets to catch a glimpse of the revered idol of Lord Shiva.
Maha Shivratri Calendar
Maha Shivratri Weekend
Maha Shivratri Observances
DAY
DATE
HOLIDAY NAME
Wed
Mar 05, 2008
Maha Shivaratri
Mon
Feb 23, 2009
Maha Shivaratri
Fri
Feb 12, 2010
Maha Shivaratri
Thu
Mar 03, 2011
Maha Shivaratri
Mon
Feb 20, 2012
Maha Shivaratri
Sun
Mar 10, 2013
Maha Shivaratri
Thu
Feb 27, 2014
Maha Shivaratri
Tue
Feb 17, 2015
Maha Shivaratri
Mon
Mar 07, 2016
Maha Shivaratri
Fri
Feb 24, 2017
Maha Shivaratri
Wed
Feb 14, 2018
Maha Shivaratri
Mon
Mar 04, 2019
Maha Shivaratri
Fri
Feb 21, 2020
Maha Shivaratri
Popular Holiday Pages In India
India Templates
2020 India Calendar
India Long Weekends
2020 Australia Holidays
2020 Canada Holidays
2020 Hong Kong Holidays
2020 Indonesia Holidays
2020 Malaysia Holidays
2020 Philippines Holidays
2020 Singapore Holidays
2020 South Africa Holidays
2020 Thailand Holidays
2020 UAE Holidays
2020 UK Holidays
2020 USA Holidays
List of National and Regional Public Holidays of India in 2020
DAYDATEHOLIDAYWednesday Jan 01, 2020 New Year's Day
Wednesday Jan 15, 2020 Makar Sankranti / Pongal
Sunday Jan 26, 2020 Republic Day
Friday Feb 21, 2020 Maha Shivaratri
Tuesday Mar 10, 2020 Holi
Wednesday Mar 25, 2020 Ugadi / Gudi Padwa
Thursday Apr 02, 2020 Ram Navami
Monday Apr 06, 2020 Mahavir Jayanti
Friday Apr 10, 2020 Good Friday
Friday May 01, 2020 Labor Day
Thursday May 07, 2020 Budhha Purnima
Monday May 25, 2020 Eid-ul-Fitar
Tuesday Jun 23, 2020 Rath Yatra
Saturday Aug 01, 2020 Bakri Id / Eid ul-Adha
Monday Aug 03, 2020 Raksha Bandhan
Wednesday Aug 12, 2020 Janmashtami
Saturday Aug 15, 2020 Independence Day
Saturday Aug 22, 2020 Vinayaka Chaturthi
Sunday Aug 30, 2020 Muharram
Monday Aug 31, 2020 Onam
Friday Oct 02, 2020 Mathatma Gandhi Jayanti
Sunday Oct 25, 2020 Dussehra / Dasara
Friday Oct 30, 2020 Milad un Nabi
Saturday Nov 14, 2020 Diwali / Deepavali
Monday Nov 30, 2020 Guru Nanak's Birthday
Friday Dec 25, 2020 Christmas
When is Maha Shivratri?
Maha Shivaratri is a famous Hindu festival celebrated each year in reverence of Lord Shiva, the Hindu god of destruction and regeneration.
A Shivaratri is celebrated on the 13th night and 14th day of every lunar month. The Shivaratri in the month of Falgun (Phalguna) - the last month of Hindu calendar - is Maha Shivaratri which means "the Great Night of Shiva". It takes place just before the arrival of Spring, usually in February or March in the Western calendar.
It is celebrated across India and is a holiday in most states and it is also a public holiday in Mauritius and Nepal.
What is Maha Shivratri?
Maha Shivaratri is the night when Shiva is said to have performed the Tandava Nritya, or the dance of primordial creation, preservation and destruction. According to believers, this saved the world from destruction. Hindu scholars say Maha Shivaratri was the day when Shiva drank poisonous negativity to protect the world.
Maha Shivratri is observed to mark a remembrance of 'overcoming darkness and ignorance' in life and the world. Unlike most festivals, is celebrated at night and is a solemn event.
Shivaratri is also when Goddess Parvati and Lord Shiva married again.
The festival is principally celebrated by offerings of Bael (Bel Tree) leaves to Lord Shiva, all day fasting and an all-night-long vigil.
On Maha Shivratri, "Om Namah Shivaya", the sacred mantra of Shiva, is chanted through the day in Shiva temples. Special Puja is held at homes and temples.
The Lingam
Shiva is worshiped in the form of a lingam ( Sanskrit for "sign" or "distinguishing symbol") - a pillar often placed on a receptacle that represents female creative energy. Together it represents the union of organs and the totality of creation. The use of the lingam as a symbol for Shiva was introduced after the Aryan immigration into India, having been taken from aboriginal worship.
According to Hindu legend, Brahma and Vishnu were busy arguing over which among the three was the most powerful god. On hearing this, Shiva manifested in the form of a huge, flaming lingam. It was agreed with Brahma and Vishnu that whoever was first to find the end of the blazing column of fire would be considered the greatest of the Hindu gods. Vishnu, in the form of a boar, started looking for the bottom of the lingam, while Brahma, in the form of a swan, started looking for the top. After years of searching, neither had found an end, and they both had to acknowledge Shiva as the most powerful.
Flowers, incense and other offerings are made, while all through the day the devotees chant the sacred Panchakshara mantra dedicated to Lord "Om Namah Shivaya".
Bel Tree
It is believed that Lord Shiva is fond of the Bel tree, also known as the bilwa or bilva tree, and its leaves and fruit still play a main role in his worship.
Huge gatherings take place in temples all over India, though the biggest celebration is held in Ujjain, Madhya Pradesh, where Lord Shiva is believed to have stayed. Special celebrations are held at Shiva shrines in Tamil Nadu, Andhra Pradesh, and Uttar Pradesh.
All castes (divisions) of Hindu society participate in the worship of Shiva. The ceremonies surrounding Shivratri are particularly popular with Hindu women, especially those wishing to become pregnant.