I Love You Quotes to Say I Love You Without Saying I Love You
meowchie Quotes & Sayings
Quotes to Say I Love You Without Saying I Love You expresses how you care, respect, honor, trust and owns the person you love the most.
Are you out of words? Stuttering when your loved one is with you? Can't say the magic phrase "I love you" and wanted to say it differently but with the same intense feeling? Well, I could help you with that. I'm a girl and personally, these are my kind of romantic thing to hear from a guy. This would also work for girls who would want to express their love for their boyfriends. Sometimes, "I love you" is said in a more thoughtful and caring way. You tell the person you love about the good things that happened to you since you met him/her. You come up with great dreams ahead and things you wanna do with him/her. You show how inspired you are because you know you have someone beside you. Love is not just measured with how many times "I love you" is heard everyday but could also be expressed in these different quotes and sayings. Some are common and consider best love quotes while some are unique yet equally sweet and endearing. I've picked the Best Sayings and quotes to say i love you indirectly or quotes to say i love you without saying i love you and I find most of them inspirational and touching. These are great messages for anniversaries, Valentines day messages, birthday greetings for wife, girlfriend, husband or boyfriend, a monthsary message, some would even fit as wedding vow message or even your daily message on SMS for your special someone. Telling someone you love them does not require an occasion. What are you waiting for? Keep browsing and pick the best love message for your one and only love. Ohh, love is in the air and it feels like it's Valentines day the whole year round!
Some of these love quotes and messages can be very useful during breakups too, especially when the couple wants to fix the relationship. Just remember to mean the words and be true to it. Could also be helpful when a guy is still courting a girl he admires. The girl will surely fall for him easily. You don't have to be very poetic, just expressive and a little bit sweet and sure you're gonna win the heart of your dream girl. Check out these I Love You Quotes and Sayings.
Missing You Quotes and Sayings
Long Distance Relationship Quotes
Best Love Quotes for Him
Quotes to Say I Miss You
Valentines Day Quotes and Sayings
I Love You Quotes For your boyfriend
I promise there hasn't been a day that I stopped wanting you and haven't gotten out of my head at all since I first met youimage source
I swear when our lips touch, I can taste the next sixty years of my lifeimage source
When i follow my heart, it leads me to youimage source
I Love you Quotes for your husband
I Still Fall For You Everydayimage source
You are what I need in my life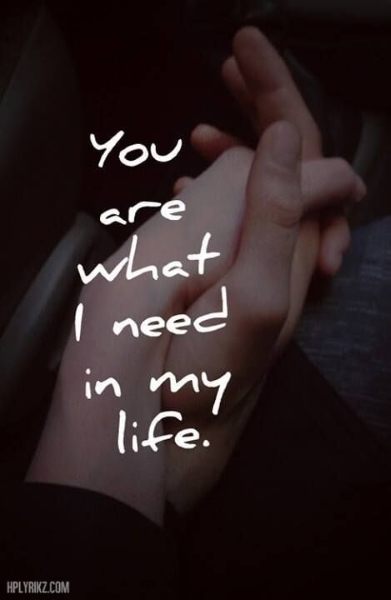 image source
By the way, I'm wearing the smile you gave me
Because of you, I laugh a little harder, cry a little less, and smile a lot moreimage source
Sometimes the greatest relationships are the ones you never expected to be in. The ones that sweep you off your feet and challenge every view you've ever hadimage source
What I have with you, I don't want with anyone elseimage source
I Love you Quotes for Him
When someone else's happiness is your happiness, that is loveimage source
Sometimes I wonder if love is worth fighting for, but then I remember your face and i'm ready for warimage source
He held me so softly that I wished he would never ever let me go. I felt at home.
Forget the butterflies, I feel the whole zoo when I am with you.image source
I Love You Quotes for Her
Your hand fits in mine like it's made just for meimage source
For all the things my hands have held the best by far is youimage source
Besides chocolate you're my favoriteimage source
I got lost in him, it's the kind of lost that's exactly like being foundimage source
You know damn well we'd go crazy without each otherimage source
I Love You Quotes for Girlfriend
I choose you and I'll choose you over and over again. Without pause, without doubt , in a heartbeat I'll keep choosing youimage source
I only want two things in this world. I want you and I want us.image source
Have I mentioned today how lucky I am to be in love with you?image source
I love my eyes when you look into them. I love my name when you say it. I love my heart when you touch it. I love my life when you are in it.image source
I wish that you were here or I were there or we were together anywhere